ASAPID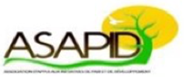 Country: Senegal
Type of organisation: Non-profit foundation
Role in the project: ASAPID will be mainly involved in the pilot case in Senegal, offering training and creating awareness for the BIO4AFRICA pilot in the local communities.
The Association for Support to Peace and Development Initiatives (ASAPID) was created in 2004 and became a partner with UASZ in 2015. It is based in Diouloulou, a municipality in the department of Bignona, and covers the entire area and the surrounding villages such as, Koudioubé, Kataba 1, Sility, Bandjikaki, Woiniack and Koba. Vision: By 2022, ASAPID aims to be a leading professional organization in economic and social development in the cross-border area (Gambia-Senegal). Its mission is to provide populations with durable solutions and quality opportunities for conflict resolution, environmental protection and adaptation of agricultural systems to climate change.