Pilot technologies
BIO4Africa aims to develop, adapt and pilot bio-based technologies with the potential to help combat poverty and improve food security in African farming communities.
The technologies were all selected following surveys of local farmer needs and assessments of existing agri-food systems and residues. To ensure acceptance, community workshops were also conducted in each of the four pilot countries.
These are the technologies we are working on:
Small-scale green biorefining
We are developing fully operational, small-scale green biorefinery units for piloting in Uganda and Ghana. Developed by Grassa, the technology was initially adapted to feedstock in Uganda, where the first biorefinery was installed in 2022. The priority is to maintain a simple design for low-cost operation with a minimum of technical skills. Installation in Ghana is planned for late 2023.
Using local crops and legumes, the biorefinery is designed to produce dry protein concentrate, a fibre/protein press cake and whey juice containing minerals and sugar. Each product will be evaluated in feeding trials – testing the protein concentrate in pig and poultry feed, the press cake in feed for dairy cows and the whey juice in piglet feed.
The press cake will also be tested in biochar production by pyrolysis.
Activities underway in 2023:
Improvement of the solar dryer by integration with pyrolysis in Uganda
Construction of the biorefinery whey concentrator in Uganda
Calibration and optimisation prior to installation in Ghana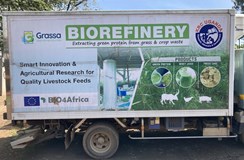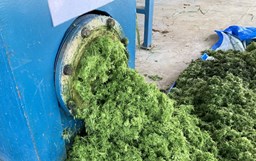 Pyrolysis technologies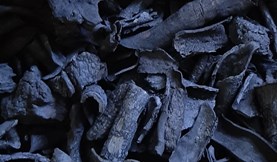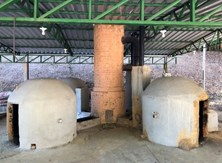 Small-scale, low-cost and robust pyrolysis technologies for biochar production are being developed, adapted and tested. The biochar will be produced from dry feedstock, such as cocoa, peanut and cashew shells, groundnut and rice husks and cassava peelings. Target applications include use as a household fuel and in soil amendment, water and gas filtration and anaerobic digestion for biogas production.
Brazilian kiln is the pyrolysis technology selected for installation in Ghana and Côte d'Ivoire. The biochar produced will be primarily used to improve soil fertility by amendment. In Côte d'Ivoire, INP-HB has also constructed traditional pyrolysis furnaces to produce experimental quantities of biochar for a water filtration device.
Lab trials at CIRAD and IHE Delft are focusing on optimising biochar as an adsorbent of lead and cadmium in water and hydrogen sulphide in biogas.
Activities underway in 2023:
Installation of Brazilian kiln pyrolysis technology in Ghana and Côte d'Ivoire
Production of biochar for the water purification pilot in Côte d'Ivoire
Preparations of biochar for the bio-fermenter in Senegal
Pyrolysis optimisation using blends of biomass samples
Lab optimisation tests of biochars as adsorbents
Hydrothermal carbonisation
Small, low-cost hydrothermal carbonisation (HTC) units are under development to produce hydrochar from wet biomass streams, such as typha, manure and cashew apple waste. The first pilot scale HTC unit has been constructed at UASZ in Senegal, following adaptation and optimisation at IHE Delft.
Like biochar, hydrochar is suitable for use as a clean household fuel and in soil improvement, water and gas filtration and anaerobic digestion for biogas production.
Activities underway in 2023:
Lab optimisation tests of hydrochar as an adsorbent of heavy metals in water and as an additive in anaerobic digestion
Certification of the HTC reactor and first tests in Senegal
Preparations to transfer HTC technology to Uganda
Preparation of research paper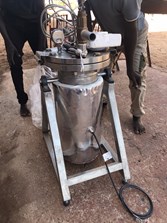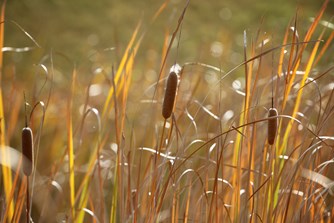 Densification technologies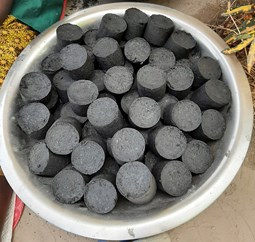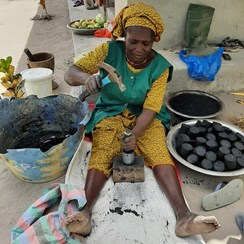 The two densification technologies in focus are briquetting and pelletisation, both using dry biomass materials and biochar to produce household fuel and animal feed.
Fuel briquettes will be produced from biochar based on cashew and peanut shells, for example. Briquetting equipment for this application is being validated by KRC in Uganda and UASZ in Senegal.
In Ghana, SAVANET has acquired a pelletising line for the production of pellets for fish feed trials. Preliminary tests in Côte d'Ivoire have used a pelletisation line at INP-HB to produce pellets for sheep feed.
CIRAD is responsible for briquetting trials with raw biomass, while RAGT Energie is running pelletisation trials.
Activities underway in 2023:
Optimisation of briquette production for fuel in Uganda
Installation of extruder pelletisation mill for producing fish feed pellets in Ghana
Purchase of pelletising line for animal feed in Côte d'Ivoire
Preparations for the design of a briquetting unit in Senegal
Preparation of three research papers
Biocomposites and bioplastics
Lab-scale studies are investigating the use of locally available agricultural residues and other biomass materials for the production of biocomposites and bioplastics. Initial application areas are non-load bearing panels for housing and light packaging.
CIRAD has acquired a thermo press for adaptation tests using selected materials, including empty palm fruit bunches and cocoa pods.
Activities underway in 2023:
Adaptation tests on biocomposites
Adaptation tests on bioplastics
Preparation of two research papers