Uganda
About Uganda
There are three million smallholder subsistence farmers in Uganda, each with 2.5 hectares of farmland on average.
With its primarily tropical climate, Uganda is experiencing significant effects of climate change. The increased frequency of extreme weather events like floods and drought has social-economic impact on vulnerable rural communities.
The country has a total population of 45.7 million people.
The test site
The BIO4Africa test site is located in Kabarole District on the premises of Kabarole Research & Resource Centre (KRC) in Fort Portal and the Zonal Agricultural Research and Development Institute of National Agricultural Research Organisation (NARO) in Rwebitaba.
Local farmer involvement
Subsistence farmers from around Fort Portal will be engaged in the production of feedstock crops, with support from BIO4Africa partners. As livestock producers with cattle, pigs and poultry, the farmer will also supply animal manure.
Bio-based technologies and feedstock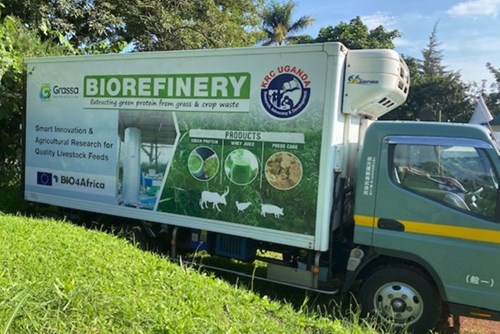 The test site will validate the following technologies:
    Green biorefinery, producing:
Press cake for improving the milk yield of dairy cattle
Protein concentrate for improved pig and poultry performance, i.e. increased weight gain, carcass quality and egg production
Liquid whey for piglet feed
    Hydrothermal carbonisation (HTC), producing:
Local feedstock for the biorefinery and HTC plant will include:
Tithonia, mucuna, alfalfa, lablab plus cassava and banana leaves for press cake/protein concentrate production
Animal manure from cattle feed trials for the biochar soil conditioner