Uganda
About Uganda
There are three million smallholder subsistence farmers in Uganda, each with 2.5 hectares of farmland on average. Livestock farming is of particular importance to optimising incomes and contributing to food security.
With its primarily tropical climate, Uganda is experiencing significant effects of climate change. The increased frequency of extreme weather events like floods and drought has social-economic impact on vulnerable rural communities.
The country has a total population of 45.7 million people.
The test site
The BIO4Africa test site is located in Kabarole District on the premises of Kabarole Research & Resource Centre (KRC) in Fort Portal and the Zonal Agricultural Research and Development Institute of National Agricultural Research Organisation (NARO) in Rwebitaba.
Local farmer involvement
Subsistence farmers from around Fort Portal will be engaged in the production of feedstock crops, with support from BIO4Africa partners. As livestock producers with cattle, pigs and poultry, the farmer will also supply animal manure.
Bio-based technologies and feedstock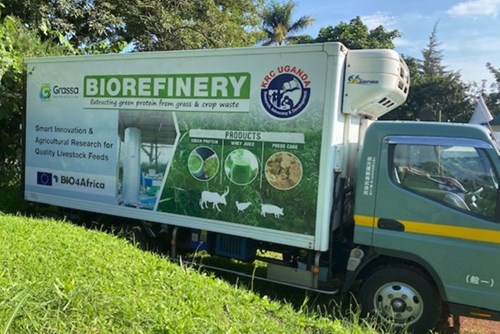 The test site will validate the following technologies:
    Green biorefinery, producing:
Press cake for improving the milk yield of dairy cattle
Protein concentrate for improved pig and poultry performance, i.e. increased weight gain, carcass quality and egg production
Liquid whey for piglet feed
    Hydrothermal carbonisation (HTC), producing:
Local feedstock for the biorefinery and HTC plant will include:
Tithonia, mucuna, alfalfa, lablab plus cassava and banana leaves for press cake/protein concentrate production
Animal manure from cattle feed trials for the biochar soil conditioner
First of a kind – turning local green-leaf crops into nutritious livestock feed
The BIO4Africa green biorefinery in Fort Portal, Uganda, is the first of its kind in Africa - and only the third in the world.
Once pilot trials are complete, the ambition is to upscale the technology and commercialise the protein concentrate, press cake and liquid whey as alternatives to soy imports for livestock feed.
"We're looking at an integrated approach, where many crop and livestock farmers can benefit from this circular model."
Mohammed Shariff, executive director, KRC

The technology partner for the project is Grassa, which has transported the biorefinery equipment from The Netherlands.
Watch the videos
And hear Wim van Doorn, project lead at technology provider Grassa, and Mohammed Shariff explain how the biorefinery works and the benefits for smallholder farmers and the Ugandan population at large.