ASARECA Agriculture Ministerial Conference 3-5 May 2023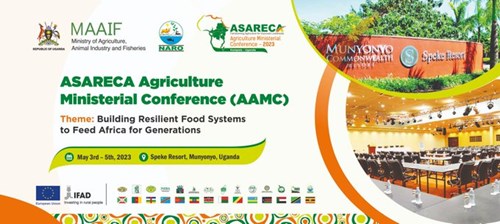 Theme: Building resilient food systems to feed Africa for generations
Sub-themes:
Mitigating effects of climate change to build resilience to vulnerabilities and boost productivity  
Catalyzing private sector investments for commercialization of Technologies Innovations and Management Practices (TIMPs).  
Empowering farmers, women and youth and other vulnerable groups to participate in food systems through access to information and technologies 
Breaking barriers to uptake of TIMPs through innovation and digitalization for food systems transformation.  
Policy engagement, inclusive agricultural markets and trade. 
Partnerships for strategic transformation  
This is primarily a physical meeting. However, provision has been made for online participants who are not able to attend physically. 
More information and registration here