Upscaling private sector participation and science-based outreach in West Africa | Workshop 22-23 June 2022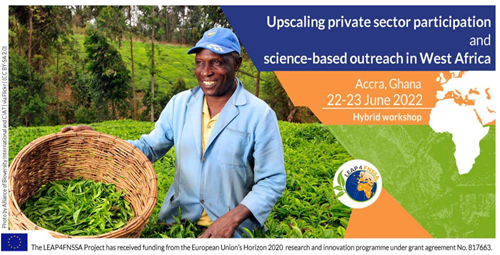 The workshop will be hosted by the Science and Technology Policy Research Institute (CSIR-STEPRI), which is one of thirteen institutes under the Council for Scientific and Industrial Research (CSIR) in Ghana.
The mission of CSIR-STEPRI is to conduct research and provide knowledge-based information and contribute to the formulation and implementation of policies and programmes for socio-economic development based on Science, Technology and Innovation.
LEAP4FNSSA organises the workshop with the aim of:
Informing about the AU-EU Platform for research and innovation on Food Nutrition Security and Sustainable Agriculture
Linking small businesses to existing research and innovation hubs
Promote the involvement of private sector in research and innovation programmes
Exchange on communication strategies and mechanisms for science-based outreach
Strengthening Europe – Africa collaboration on Food and Nutrition Security and Sustainable Agriculture
The major output of this workshop will be workshop report, which will be presented at the stakeholder meeting organised back-to-back to the AU EU Senior Officials Meeting scheduled for 13th July 2022 in Brussels.
More information and registration here.