Africa gains first green biorefinery for sustainable livestock feed
The BIO4Africa biorefinery in Uganda is up and running – producing high-quality protein from local elephant grass
Smallholder farmers in Uganda are starting to experience the benefits of a new bio-based technology that turns locally grown elephant grass into nutritious livestock feed. One of the flagship technologies of the BIO4Africa project, the green biorefinery is the first of its kind on African soil – and a step towards replacing expensive soy imports with a home-grown source of sustainable, high-quality protein.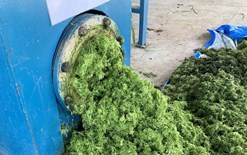 The biorefinery lies in Fort Portal on the premises of Kabarole Research & Resource Centre, one of the 25 partners in the EU-African BIO4Africa consortium. Another partner, Dutch biotech company Grassa has supplied knowhow and equipment for the plant.
"The green biorefinery is not just the first in Africa. It's only the third of its kind in the world. We're looking at an integrated approach, where many crop and livestock farmers can benefit from this circular model," says Mohammed Shariff, executive director at KRC.
Cheaper local alternative to soy protein
Local farmers are already delivering grass to the biorefinery for processing. Operating like a slow juicer, the biorefinery squeezes the grass to extract the protein-rich juice. Both the juice and fibrous press cake pack a nutritious punch in livestock feed – and are a cheaper, more accessible alternative to traditional soy-based products.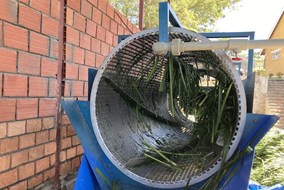 Wim van Doorn, project lead at Grassa, explains the benefits: "The protein concentrate can be dried and used for chicken and pig feed, for example. The press cake can be ensiled and fed to cows and goats. Because these products are easy to store and transport, they offer a good opportunity for farmers to improve their incomes."
Improving productivity to relieve malnutrition
Better quality feed for livestock farmers can also help solve one of Uganda's most pressing challenges – the high level of malnutrition. According to UNICEF Uganda, stunting due to malnutrition affects more than a third of children below the age of five.
"Implementation of this biotechnology can enable livestock farmers to improve their productivity, so they can deliver more meat, milk and eggs to the population – and contribute to reducing malnutrition in this region and the country as a whole," Shariff says.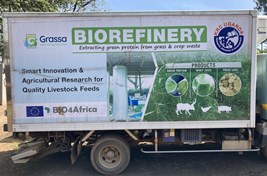 Crop waste is the next test – then Ghana
The pilot trials are making use of an elephant grass hybrid with millet. Once these are complete, the BIO4Africa partners will start testing the biorefining technology on the leaves of Mucuna beans, alfalfa and other green-leaf crops supplied by local farmers. The ambition is to get crop and livestock farmers working in circular harmony – where crop farmers supply biomass to the biorefinery, which produces feed products for livestock farmers, who then deliver manure back to the fields as a fertiliser.
Based on experience gained in Uganda, a second green biorefinery will be established in Ghana during 2023. The plants are part of a series of bio-based technologies piloted through the BIO4Africa project to improve the sustainability and climate-resilience of smallholder farming, create new sources of revenue for farmers and strengthen food security.
Watch: the BIO4Africa biorefinery in action – and why it matters