BIO4Africa builds the foundations for technology field tests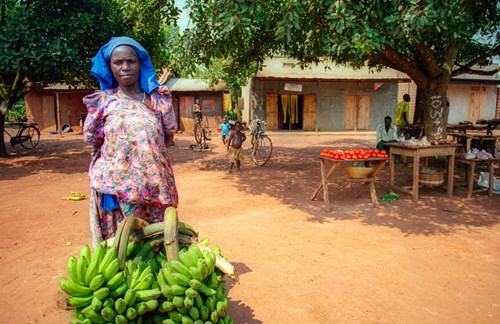 Project partners have identified local needs and the bio-based technologies that can turn farm residues into new high-value products – the starting point for enabling robust circular farming practices in rural Africa.
BIO4Africa has achieved the first milestones in its plan to introduce African farming communities to bio-based technologies that can help combat poverty and enhance food security. With the completion of a technology catalogue, smallholder farmer survey and assessments of current agri-food systems and residues, the foundations are now laid for adapting and testing the technologies at eight sites across Côte d'Ivoire, Ghana, Senegal and Uganda.
Up to 2025, more than 300 farmers and farming communities will experience how bio-based technologies can make their farming practices more robust and sustainable and create new sources of income.
Empowering long-term change
At the same time, the 25 BIO4Africa partners will work with local communities, organisations and governments to develop circular business models that will empower smallholder farmers – who include a growing number of women farmers – beyond the end of the project.
"The objective is to overcome barriers to long-term change by enabling the development of a circular bioeconomy. In addition to improving the livelihoods of individual farmers, the introduction of new sustainable practices can bring broad social, environmental and economic benefits to rural Africa," says BIO4Africa project coordinator at Cirad, Jean-Michel Commandré.
Value from residues
The testing sites will demonstrate the potential of selected bio-based technologies to transform residues from crop and livestock farming into higher value products. Most importantly, the solutions must be simple to use and low cost.
"New technologies must have something in common with technologies that are already in use. For example, the production of biochar is common practice. The technology we are proposing should create new opportunities to produce high-quality charcoal for water purification, soil fertilisation and other purposes" remarks Patrick Rousset, who is leading the BIO4Africa work package responsible for technology deployment and testing.
Other product possibilities using local residues include animal feed, pollutant absorbents, construction and packaging materials, solid fuel and feedstock for biogas production.
Impactful knowledge
To secure maximum impact, BIO4Africa will collaborate and share knowledge with sister projects DIVAGRI and LEAP4FNSSA, which are also funded by the European Union Horizon 2020 research and innovation programme.
Subscribe to our regular BIO4Africa new updates here