Twin projects share vision to build rural resilience
The DIVAGRI webinar series will raise the visibility of new bio-based initiatives and revenue opportunities in rural Africa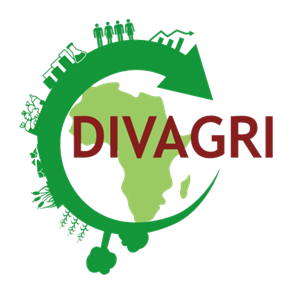 Can a four-year project make a sustainable impact? BIO4Africa's twin project DIVAGRI has developed a sustainability monitoring framework to evaluate whether selected bio-based tools improve the resilience of African smallholder farmers.
Wendy Stone from Stellenbosch University Water Institute, one of the 21 partners in the DIVAGRI consortium, presented the monitoring framework during the first in a new series of DIVAGRI webinars.
She explained how improvements in environmental regeneration, economic viability, network governance and social well-being will be used as indicators of better resilience.
"We are passionate about ensuring the sustainability element. The goal is to measure the difference made by the end of the project using these sustainability indicators," Stone said.
Projects with similar goals
The DIVAGRI and BIO4Africa projects are closed linked. Similar to BIO4Africa, DIVAGRI focuses on establishing new revenue opportunities for smallholder farmers via bio-based solutions. The project will pilot seven technologies across demonstration sites in Botswana, Ghana, Namibia and South Africa.
Local farmers and community leaders are integral to the co-design and development of each bio-based tool through their involvement in 'communities of practice' at the demonstration sites.  Empowerment of women and young entrepreneurs is a particular priority. The founding of an informal women empowerment network is a goal in all of the African countries linked to the DIVAGRI project.
Synergies highlight the bigger picture
Webinar moderator Bruno Sales da Silva (IAAD) emphasised the synergies between DIVAGRI and BIO4Africa – and how the projects will work together to build upon them.
"Many projects are developing similar solutions in different countries. There are many remarkable initiatives at local level and they are very often not visible. So, the bigger picture is important," he said.
Other speakers at the webinar included Tiziana Centofanti (Alchemia-Nova), scientific leader for DIVAGRI, and Jean-Michel Commandre (CIRAD) and Panos Tsolakidis (Q-Plan International) who gave an introduction to BIO4Africa goals and technologies.
The DIVAGRI webinars
DIVAGRI is committed to hosting a long series of knowledge-sharing webinars through to the project's conclusion in 2024. To register for more information, write to synergies@divagri.org.
Picture courtesy of Annie Spratt at Pixabay