Partners adapt the BIO4Africa biorefinery to the savannah climate
The foundations are laid and feedstock identified for Africa's second green biorefinery in Ghana
The second BIO4Africa biorefinery is under construction at the SavaNet Agriculture Technology Research Station in the North East Region of Ghana. When production trials begin in August, the pilot plant will feature a series of improvements based on experiences from the first green biorefinery established in Uganda last year.
From the outset, the Ghana biorefinery has been designed for the predominantly dry savannah region, where the short growing season limits the availability of green leaf feedstock to a few months a year. This is why the biorefinery will have 2.5 times more capacity than the Ugandan facility.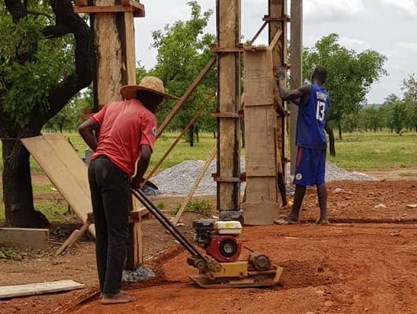 "To ensure we have sufficient products for the feed trials and later on for the farmers, we need to be able to produce more in a short time. That means processing around a ton of fresh leaves an hour, depending on the feedstock," says Wim van Doorn, project lead and environmental scientist at Grassa, which has developed the biorefinery technology.
Leaves with potential
Grassa and SavaNet-Ghana have identified the three crop varieties that could provide the initial feedstock – Cajanus, cowpea and soya. Analyses at Nutricontrol, a specialised laboratory in the Netherlands, have shown that Cajanus leaves are particularly high in protein, while cowpea and soya leaves are slightly higher in unsaturated fatty acids. All three are rich in vitamins.
Cassava, alfalfa, Brachiaria and peanut leaves are other good candidates as biorefinery feedstock. More will become available for testing as the current growing season progresses. The partners further plan to experiment with ensiling green leaves for use as feedstock in the dry season.
The location in Loagri puts the biorefinery at the heart of the crop fields. So the transport distance for feedstock is short.
"An important next step for us is to gather data on the costs of growing and harvesting the leaves and transporting them to the biorefinery. This will help us choose the best crop for processing," says Moses Nganwani Tia, country director at SavaNet-Ghana.
Design improvements
Experiences from Uganda have led to a series of improvements in the biorefinery design. An adapted washing process has been introduced for simpler cleaning of the leaves; protein coagulation and sedimentation have been refined to increase protein yield; and a new sieve bend has been added to remove fibres from the whey juice, as such fibres can have a negative impact on the protein content of the protein concentrate.
Finally, the protein concentrate drying house will be integrated with the pyrolysis units that will also be installed at the site. Wim explains that heat from the pyrolysis kilns can then be used to dry the protein.
"This will reduce drying time, particularly on cloudy, rainy days in the wet season, when humidity is high and solar radiation less. It's a nice example of how technologies can be integrated."
Grassa and SavaNet-Ghana are collaborating with 0km Nomads.org and iHub on the Ghana biorefinery project.